CMSD82 News Release – HSS & NHES Administration Changes – August 1, 2020 to July 31, 2021
I am writing to share with you some interim changes effective August 1, 2020 in the administrative structures at Hazelton Secondary School and New Hazelton Elementary School.
Vince Dikaitis, Principal at Hazelton Secondary School has extended his current leave.  Paul Boisvert has been appointed Principal for Hazelton Secondary School effective August 1, 2020 through to July 31, 2021.
The school district is now actively seeking a Vice Principal for Hazelton Secondary School for the 2020-2021 school year (one-year assignment) and will commence a search beginning today.
Alison Campbell, Principal at New Hazelton Elementary School is taking a medical leave effective August 1, 2020.  Jan Thorburn has been appointed Principal at New Hazelton Elementary School effective August 1, 2020 through to July 31, 2021.
We are thankful that Paul and Jan are able to provide leadership in these assignments.  Paul and Jan are passionate educators who celebrate the uniqueness of each learner optimizing learning opportunities for every student.
The school district will be providing ongoing support to Paul and Jan as they transition into these assignments ensuring a continued safe and successful learning environment for students remains the focus of Hazelton Secondary School and New Hazelton Elementary School.
Your understanding and support is appreciated as we transition through these changes.
Please join me in welcoming Paul and Jan to these leadership assignments.
Janet Meyer
Superintendent of Schools
Today the following joint letter was released by five education partner associations in support of the Ministry of Education's K-12 Restart Plan on September 8.  This letter of support was distributed today to all partner groups, the Ministry of Education, and Media Outlets.
Joint Partners Letter of Support, MoE Schools Reopening Plan
The letter is signed by the presidents of the following education partner associations:
BC School Trustees Association
BC Confederation of Parent Advisory Councils
BC Association of School Business Officials
BC Principals' & Vice Principals' Association
BC School Superintendents Association
In response to the announcement today by the Provincial Health Officer and the Ministry of Education (as shared below) that the province will be moving to Stage 2 in its Re-Start Plan for September 8, Coast Mountains School District 82 is taking all necessary steps to plan for a safe return to school for all students and staff.
District staff is committed to communicating the specific plans for School District 82 on or before August 26 and will be working diligently from today forward to ensure schools are safe and ready for the return of students and staff.
We know how important it is for children to be back in school – to both support their emotional and mental health and their ability to socialize and to learn.  We understand the uncertainty over what September will look like is difficult for families and for our staff as we move forward.  Every stage brings challenges and that's why it is critical that we stay in touch as much as possible.  We expect to begin providing answers to specific questions by August 26 or earlier, where possible.
Thanks to the efforts and hard work of our teachers, support staff and administrative staff in June, we had a preview of what it will be like to return to school.  This will greatly benefit the school district as we prepare for this next stage commencing on September 8.
School District 82 has adapted and implemented public health and infection prevention and control measures including staying home when ill, physical distancing, minimal physical contact, hand hygiene and frequent cleaning and disinfection.  The BC Government is setting aside $45.6 million to ensure increased cleaning, hand hygiene stations, and the availability of masks.  School authorities will be required to implement health and safety measures consistent with new guidelines from the BC Centre for Disease Control.
The Ministry of Education is developing operational guidelines that will further assist school districts and independent schools with their planning for September.  District staff will be working closely with school leaders and school partners to develop its School Re-Start Plan for September.
Students and parents can expect to hear regular updates about what's being planned, how it will affect them, and how they can get ready for September.
We look forward to welcoming students and staff back to our schools on September 8.
Sincerely,
Janet Meyer
Superintendent of Schools
Ministry of Education Plan to Safely bring K-12 students back to class full time (BC Government News Release – July 29, 2020)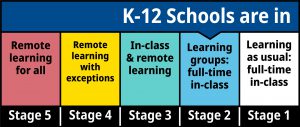 Enhanced safety measures and additional resources will enable most students in grades K-12 to return to school on September 8, 2020, with full-time in-class learning as the province moves to Stage 2 of B.C.'s Education Restart Plan.
"The classroom is an essential part of a child's social, academic and mental development, and that's why we are working hard to ensure students can safely spend the next school year with their teachers and classmates," said Rob Fleming, Minister of Education. "We were the only jurisdiction in Canada that brought students back into the classroom province wide before the end of the school year and this has given us valuable information that we are using to develop our plans, ensuring health and safety at schools remain paramount."
In September 2020, all schools will reopen in Stage 2 of the Five Stages Framework for K-12 Education.   The 2020-2021 school year will look different for students, teachers and parents.
For more information on the K-12 Education Restart Plan, visit: gov.bc.ca/covid19returntoschool.
"Coast Mountains School District: creating opportunities for learning, opportunities for life"
June 22, 2020
Dear CMSD82 Parents and Guardians:
RE: 2020-2021 School Calendar
In late January/early February 2020, the school district's School Calendar Committee was convened to develop a School Calendar for the 2020-2021 school year.
The Board of Education approved the 2020-2021 School Calendar at its February 26, 2020 Regular Board Meeting with final approval received from the Ministry of Education in early May.
The first day of school for the 2020-2021 school year will be Tuesday, September 8, which is subject to change in light of the COVID-19 pandemic and recommendations from the BC Provincial Health Officer in terms of BC's K-12 Education Restart Plan.
Please find attached a copy of the 2020-2021 School Calendar with non-instructional days (professional development days), a district in-service day, early dismissal days, spring and winter breaks, etc. A backgrounder page is also provided outlining details of the calendar for your convenience. The 2020-2021 School Calendar was also shared with the school district's staff and partner groups.
Further information regarding the 2020-2021 School Calendar can be obtained by contacting Carole Gagnon, Executive Assistant at the Board of Education Office at (250) 638-4401.
Sincerely yours,
Janet Meyer
Superintendent of Schools
Attachment
– 2020-2021 School Calendar & Backgrounder (2 pages)
CMSD82 2020-2021 School Calendar
CMSD82 2020-2021 School Calendar – Backgrounder
Morning, Gr. 7 Year-end Celebration Today
We are starting at 11:30. Due to the weather, cloud cover and expected rain we will be going with the rainy day plan – cars will come up McLeod street and drive around the block waiting in line for their turn on Bowser street facing the highway. The cars and students will be recognized in the order they show up. Please be patient and wait your turn. Someone will cue you when its your turn.
See you all soon.
On behalf of all of us, we congratulate all our Grade 7s and wish them all the best in their educational pursuits and life.
Ms. Campbell
Note:
The school has placed a hoodie order at the high school. Come September, a HSS Spartans hoodie will be awaiting your child's arrival.
CMSD82 Board of Education News Release – Janet Meyer Appointed Superintendent of Schools
The Board of Education is pleased to announce that Janet Meyer has accepted the Board's offer to assume the position of Superintendent of Schools on a permanent basis. Janet has been performing that role as Acting Superintendent since June 2019. Janet succeeds Katherine McIntosh, who is seconded to the Ministry of Education, and who will not be returning as Superintendent when that secondment ends.
Janet's appointment as Superintendent is the culmination of a long and varied career with School District 82, having worked in this District as a Teacher, a Principal, a Director of Instruction and Director of Human Resources before taking on the role of Acting Superintendent of Schools.
When Janet was appointed Acting Superintendent, the Board recognized her as a widely respected effective leader, team builder and committed educator. Throughout her career, Janet has demonstrated her passion for education, and a "children first" approach to her work. She has demonstrated her skills over the last year, as she helps the Board navigate through and implement actions recommended within the Independent Consultant's Report and works to strengthen ties with partner groups and the community. Janet has worked tirelessly as we deal with COVID-19 and ensuring our school district provides a safe learning and working environment for our students and staff.
Janet holds a Bachelor of Education (Elementary) from the University of Victoria and a Master of Education in Leadership Studies from the University of Victoria with a focus on Indigenous Parent Participation in Schools.
The Board of Education extends congratulations to Janet on her appointment as Superintendent of Schools.
Shar McCrory
Chairperson, Board of Education